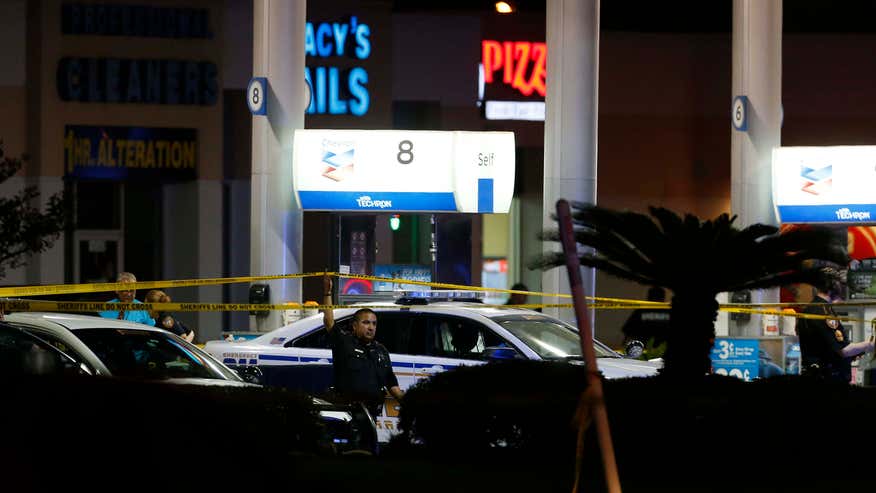 The man suspected of a killing a Texas county sheriff's deputy has reportedly been arrested at the end of a successful SWAT scene.
Fox affiliate KRIV reports Harris County Sheriff's Office deputies captured the suspect in the murder of Deputy Darren Goforth early Saturday. The man was taken into custody at Pine Falls and Sunny Ridge in northwest Harris County, according to the station.
The suspect's mother assisted law enforcement officers in the capture of her son, KRIV reports.
Goforth, 47, was pumping gas into his patrol car at a suburban Houston gas station when a man approached him from behind and fired multiple shots, Harris County Sheriff's Office spokesman Ryan Sullivan told The Associated Press.
Police had described the suspect as a male with a dark complexion, about 5-foot-10 to 6-feet tall, wearing a white T-shirt and red shorts driving a red or maroon pickup truck with an extended bed. Police posted pictures of the suspect from a security camera on Twitter.
Sheriff's office spokesman Deputy Thomas Gilliland said Goforth had traveled to the Chevron station where the shooting happened, after responding to a routine car accident.
"He was pumping into his vehicle, and the male suspect came up behind him and shot the deputy multiple times," Gilliland told the Houston Chronicle. "The deputy fell to the ground, the suspect came over and shot the deputy again multiple times as he lay on the ground."
KRIV reported Goforth was shot once in the head and three times in the back.
The Texas Department of Public Safety and the Houston Police Department were also involved in the search for the suspect.
This is a very tough moment right now for the Harris County Sheriffs Office," Gilliland said. "Keep us in your prayers and in your thoughts."
"Bob Goerlitz, president of the Harris County Deputies Organization, said the incident was "shocking."
"We've been warned of things like this, because of public sentiment nationally and events over the last few years ... It's just horrific. That's the only way to describe it."