CLEVELAND, Ohio — Donald Trump accepted the 2016 Republican nomination at the Republican National Convention in Cleveland, Ohio on Thursday night, vowing to unite the country, put Americans first, and to be honest with the American people.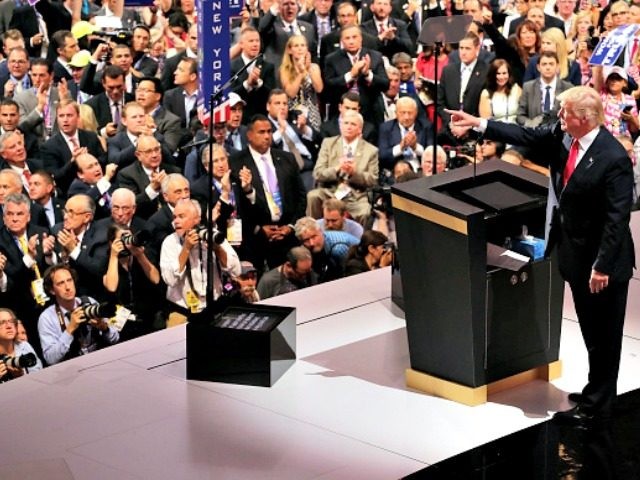 "Together, we will lead our party back to the White House," he stated after "humbly" accepting the nomination, noting he will restore safety and return America to being a country of law and order.
The crowd welcomed the billionaire with a standing ovation, whistles,and cheers, chanting, "Trump! Trump! Trump!" and "USA-USA-USA."
Trump joined in on the "USA" chant with a big grin across his face. Many delegates remained standing throughout his speech. He said, in part:
I have a message for all of you: the crime and violence that today afflicts our nation will soon come to an end. Beginning on January 20th 2017, safety will be restored. America is far less safe – and the world is far less stable – than when Obama made the decision to put Hillary Clinton in charge of America's foreign policy," Trump told thousands of Republicans gathered in the Quicken Loans Arena, blaming President Obama and former Secretary of State Hillary Clinton — the presumptive Democratic nominee — for the growing amount of terrorism and unrest across the world.
"Lock her up!" the audience started chanting about Clinton. Trump responded to their call, saying, "Let's defeat her in November."
"It is finally time for a straightforward assessment of the state of our nation. I will present the facts plainly and honestly. We cannot afford to be so politically correct anymore," the billionaire said, as the crowd reacted with cheers.
Trump told his audience a change in leadership is needed to provide a change in outcomes.
"Our plan will put America first," he vowed, as the "USA-USA-USA" chant broke out in the crowd again.
Trump said the American people will count first, adding that "Americanism, not globalism, will be our credo."
"Things have to change and they have to change right now," he declared.
A protester briefly interrupted Trump's address, but was quickly escorted out of the arena. Upon the interruption, Trump praised the police.