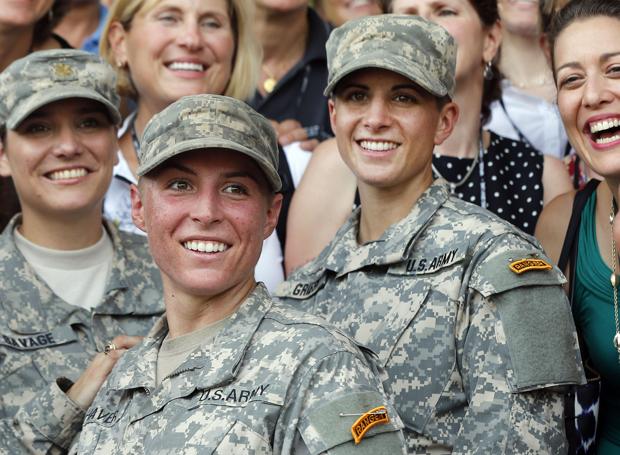 For girls, in our view, this should include the dream of serving their nation on the field of battle.
The historic graduation of the first two female soldiers to complete the Army's rigorous, nine-week Ranger School (the Army opened Ranger School to women for the first time this year) - 1st Lt. Shaye Haver of Copperas Cove, Texas, and Capt. Kristen Griest of Orange, Conn. - on Aug. 21 in a ceremony at Fort Benning, Ga., focuses renewed attention on the issue of whether women in America's armed forces should serve in direct combat roles.
We believe women who wish to put their life on the line in defense of our country deserve nothing less than the same opportunities afforded men.
On Jan. 24, 2013, Defense Secretary Leon Panetta lifted a ban on female soldiers serving in combat positions, thus setting in motion a three-year review and transition for each branch of America's armed services.
"Everyone is entitled to a chance," Panetta said at the time.
Under the ban, women were excluded from some 300,000 jobs. Today, some 240,000 positions, largely in infantry and armor units, remain closed to women. According to a June Military Times story, leaders of the Army, Navy, Air Force and Marines this year must eliminate gender restrictions for all jobs or request, by Jan. 1, formal waivers from Defense Secretary Ash Carter.
"We've really tried to give them the time that they need to finish their studies," Juliet Beyler, the Pentagon's director of officer and enlisted personnel management who is overseeing the transition, said for the Military Times story.
In our minds, the first graduations of female soldiers from Army Ranger school and the opening of all combat jobs to women are natural next steps in the evolution of women's roles in our nation's military.
Today, more than 200,000 women serve in America's armed forces, more than 35,000 of them as officers. Women have, in fact, distinguished themselves in combat-support positions, such as helicopter pilots and medics. Some 300,000 women served tours of duty in Iraq and Afghanistan; more than 150 of them were killed and hundreds more were injured.
We do not wish to see the nation's defense diminished, so we do not support lowering of standards for combat positions, but if a woman can prove herself equal to men in completing the necessary training, then we believe she is entitled to the honor of wearing America's uniform into battle.
In nearly all professions and walks of life, we as a nation have moved beyond outdated, gender-based concerns and stereotypes to proper acceptance of equal opportunities for women. Because we have absolute confidence America's military is up to whatever task or challenge it might face, we believe it more than capable of breaking down remaining barriers to women in combat and making the new rules work.