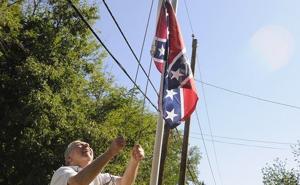 SALEM — Gary Egge says he isn't the kind of guy who likes to make waves or cause trouble.
But when the 71-year-old Vietnam War veteran recently heard about the Confederate flag controversy in South Carolina, he just had to speak out in his own quiet way.
The retired Osram Sylvania executive was upset when he learned that lawmakers in South Carolina decided to remove the rebel flag from the Capitol grounds earlier this summer in response to the firestorm that erupted after nine people — all black — were slain at a church in Charleston.
"I am not a racist, but I like to express my opinions," Egge said.
Dylann Roof, described as a white racist, has been charged in the deaths. Tolerance of the flag was tested in June when photographs circulated on the Internet showing Roof posing with the Confederate symbol, prompting the state to remove it from its statehouse as well.
Across the country, opposition mounted against flying Confederate flags. Political leaders, including some presidential candidates, called for their removal.
Egge did just the opposite — he began searching online for a Confederate flag he could fly next to his American and Revolutionary War flags above the veterans memorial display he created in the front yard of his Veronica Avenue home.
"All of a sudden they are taking it down off buildings," he said. "I was ticked off."
Egge sympathizes with those affected by the tragedy in South Carolina, but said taking down the flag isn't the way .