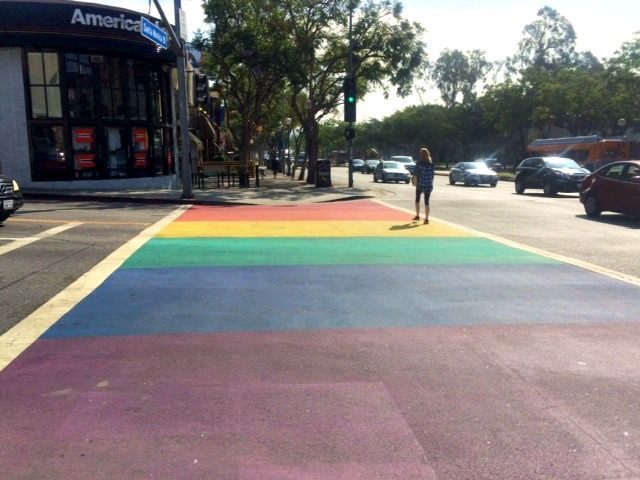 WEST HOLLYWOOD, California — The streets remained quiet in Los Angeles's rainbow colored West Hollywood neighborhood Friday morning following the historic announcement by the Supreme Court of the United States (by a vote of 5-4) that gay marriage would be legally recognized in all 50 United States.
The decision makes America the second country in the world, after Brazil, to arrive at this choice through judicial imposition.
All will not remain quiet for long. A "Decision Day Celebration Rally" is set to take place at 6 p.m. Friday evening in West Hollywod Park (at the intersection of San Vicente and Santa Monica Boulevards). The Facebook invitation has so far seen over 2,600 RSVPS, with that number expected to grow.
"We knew that the Supreme Court would want to be on the right side of history," West Hollywood's recently elected Mayor Lindsey Horvath, 32, told Breitbart News. Horvath took office in April of this year. She said today's historic decision "Is not just about marriage equality… It's also about immigrants rights, and workers rights":
The fight for protecting immigrants and immigrants rights will continue and we want to be at the forefront of that conversation as well… This is a coalition and we will all stand shoulder-to-shoulder taking steps forward until we all have equality for all.
Echoing President Barack Obama, she said "And today, love wins."
Today is a big step in our march toward equality. Gay and lesbian couples now have the right to marry, just like anyone else. #LoveWins
A man named Nick also said he was not surprised at today's Supreme Court ruling. "Good job. Finally. Long-waiting and long-deserved… Just based on what has happened in the past couple of years, I knew everything was going to move quickly." Nick celebrated his 7-year anniversary with his husband on Thursday. They were married in West Hollywood in 2008.