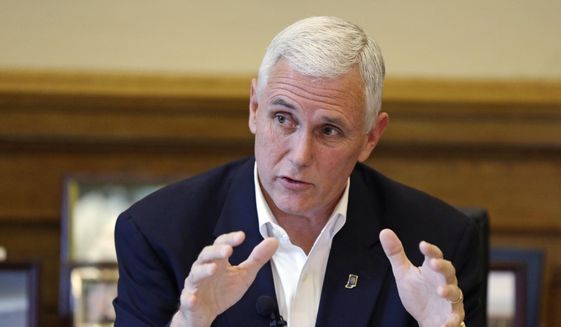 Indiana Gov. Mike Pence discusses the legislative session that ended the day before during a news conference at the Statehouse in Indianapolis, in this April 30, 2015, file photo. (AP Photo/Michael Conroy)
Indiana
Gov. Mike Pence
said Wednesday he will not comply with the Obama administration's proposal to limit carbon emissions from existing power plants, the centerpiece of the president's climate-change agenda.
In a letter to President Obama, Mr. Pence demanded that major changes be made to the plan. If those changes are not made, the governor said his state will defy the Environmental Protection Agency regulations, formally known as the Clean Power Plan.
"If your administration proceeds to finalize the Clean Power Plan, and the final rule has not demonstrably and significantly improved from the proposed rule, Indiana will not comply. Our state will also reserve the right to use any legal means available to block the rule from being implemented," Mr. Pence said in the letter. "Energy policy should promote the safe, environmentally responsible stewardship of our natural resources with the goal of reliable, affordable energy. Your approach to energy policy places environmental concerns above all others."
The final version of the Clean Power Plan is expected to be released in August. It would dramatically limit carbon emissions from power plants, and the EPA estimates overall U.S. carbon emissions would fall dramatically as a result of the plan.
The agency also admits that the amount of American energy generated by coal would fall by 25 percent after the plan is implemented.
Energy companies and a coalition of states already have challenged the plan in court, but the lawsuit was deemed premature and ultimately was dismissed. Opponents have vowed to file new lawsuits after the final plan is unveiled.