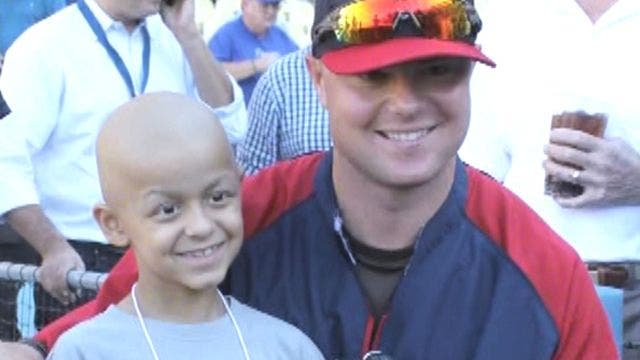 It was an uncharacteristically sizzling hot day in Southern California, and fans were gathering on a Friday evening to watch the first game of a three-game series between the Boston Red Sox and the Los Angeles Dodgers.
Among the lucky ones to actually go down on the field were the Youseff family from Southern California, escorted onto the diamond by Sarah Narracci, a community relations representative for the Red Sox, and Jeri Wilson, the executive director of the Pediatric Cancer Research Foundation.
Six-year-old Zein Youseff was bouncing around, at times nearly coming out of his skin, because he was about to meet his hero -- Red Sox pitching ace Jon Lester.
Zein and Jon have a common bond. Cancer.
Just as his Major League career was taking hold in 2006, Lester discovered he had non-Hodgkins lymphoma. Lester is now cancer free. But Zein and his family are in the fight of their lives, as Zein is under treatment for neuroblastoma.
When Zein and Lester met near the Red Sox dugout, the pitcher crouched down to meet Zein at eye level, and they had a not-so-private conversation.
Via: Fox News
Continue Reading.....