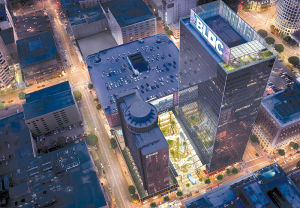 DOWNTOWN LOS ANGELES - To understand why people are so bullish on Downtown Los Angeles, just look at nearly any neighborhood in the community. Odds are, you'll see a healthy batch of projects moving forward.
BE THE FIRST TO READ THE LATEST DOWNTOWN NEWS, FOOD AND CULTURE STORIES. CLICK HERE AND SIGN UP FOR OUR DAILY HEADLINES NEWSLETTER.
Consider Little Tokyo, where Second Street south of the Doubletree Hotel is giving way to a pair of big apartment complexes. Think of Chinatown, where the Jia Apartments and the Lotus Garden are both scheduled to debut next month. There's the Financial District, where Carmel Partners' 700-unit rental building, complete with a Whole Foods, is rising at Eighth Street and Grand Avenue, with a 2015 opening planned. Then there's the Historic Core, where developments include a dramatic re-envisioning of the Pershing Hotel as low-income housing.
The action continues in other neighborhoods, with projects powering forward in the Arts District, in South Park, in City West and Central City East.
Not only are a lot of projects happening, but a lot of different kinds of projects are happening. In addition to approximately three dozen purely residential plays, there is a replacement for the historic Sixth Street Viaduct and several hotels, including Broadway's boutique Ace Hotel. An Urban Outfitters is also coming to Broadway, in an old theater, and a large brewpub is planned for the former Crazy Gideon's space in the Arts District.
Everywhere you turn, there is something new to see. In the following pages, Los Angeles Downtown News details the latest information on 94 Downtown projects.
Via: LADTNews
Continue Reading....